Welcome to Ganga Nandaka Sector 84 developed by Ganga Realty. Besides, Gurgaon known as the 'Millennium City,' has emerged as a hub for real estate development. Among the many projects that have started up in this developing city, Ganga Realty in Sector 84 offers luxury living. In this blog, we give you brief information on the ultra-luxury project in Gurgaon, Ganga Realty Nandaka Sector 84.
About Ganga Nandaka Sector 84
Ganga Nandaka Sector 84 is a new high-rise residential project in Gurgaon. It developed on 8.34 Acres of land. The Nandaka apartments are available in various sizes and configurations. It helps to meet a wide range of choices.
Ganga Realty Nandaka Sector 84 Gurgaon offers 3 & 4 BHK Ultra Luxury Apartments and Penthouses. Moreover, the unit size ranges from 3050.71 to 3850.18 square feet, ensuring there is an option to suit everyone's needs.
These high-rise apartments in Gurgaon have spacious balconies and modular kitchens. Moreover, Ganga Nandaka Sector 84 has 4 high-rise towers. Each tower's infrastructure is well-planned and well-designed.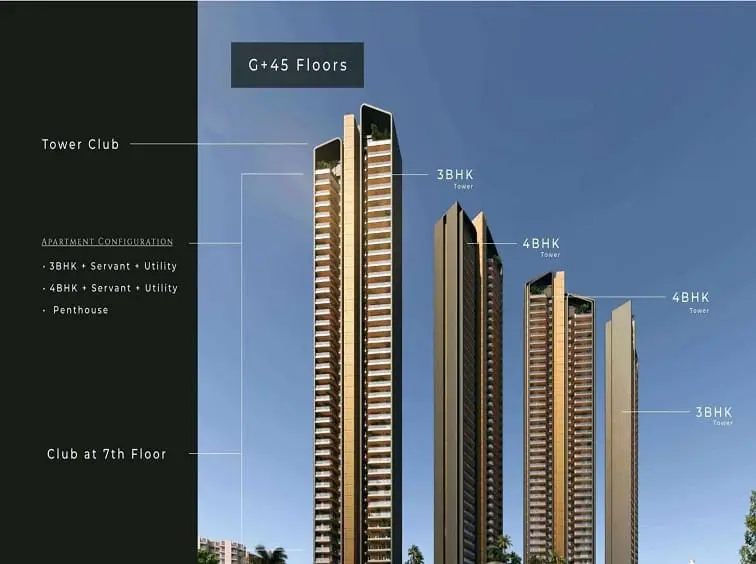 Excellent Location: Ganga Nandaka Sector 84 Gurgaon
One of the key factors that makes Ganga Realty Nandaka Sector 84 Gurgaon an attractive option is its strategic location. This project provides excellent connectivity to major highways. Such as the Dwarka Expressway and NH-8.
Moreover, this makes it easy to reach important destinations in and around Gurgaon. The project has also provided easy connectivity with the broader Delhi-NCR region. From Ganga Realty Nandaka 84, essential things like schools, malls, and healthcare facilities are very close.
World Class Amenities: Ganga Nandaka Sector 84 Gurgaon
Ganga Realty is well known for its commitment to providing a comfortable and convenient lifestyle. Located in Sector 84 Gurgaon, this luxury project offers a wide range of luxurious amenities. It caters to the needs of every resident.
From a well-equipped gym and 5 infinity swimming pools to a 1,00, 000 sq. ft Clubhouse and jogging tracks, there's something for everyone to enjoy. Moreover, Ganga Realty Nandaka Sector 84 has sports amenities like a badminton court, a half-basket court, and more. It fulfills the desire of the sports person and fitness person.
Safety And Security
When choosing a home, apartment, or anything. The first thing that always comes to mind about safety. Hence, Ganga Realty Nandaka Gurgaon takes security seriously. The project has equipped with security personnel, CCTV surveillance, and secure access control systems. It ensures your peace of mind.
Green Spaces And Environment
In an era where environmental concerns are important. Hence, Ganga Realty has taken steps to create a green and healthy living environment. Besides, the project has beautiful gardens and 80 % green spaces, promoting a healthy and serene lifestyle.
Future Growth:
Real estate investing is not about the present and now. This also includes future investments. Ganga Nandaka Sector 84 Gurgaon has situated in a rapidly developing area. The rapid development of infrastructure is being seen in it. So, this project promises good prospects for property value appreciation over time, making it attractive to long-term investors.
Conclusion:
Ganga Realty Nandaka Gurgaon is a fantastic option for those seeking comfortable, and well-located homes in Gurgaon. Besides, it is a combination of prime location, modern amenities, safety, and green living. This makes it a good choice for families, individuals, and investors.
If you're looking for a high-rise ultra-luxury apartment in the heart of Gurgaon, the Ganga Nandaka Sector 84 project is the right choice. It's not a place to live. It is a luxurious living with comfort.
GLS Consultants is the fastest-growing property dealer in Gurgaon. We deal in residential, commercial, and affordable or luxury housing in Gurgaon. If you are looking to invest or buy property in Gurgaon, contact us at 9582821821. Thank You.